Teaching at UPAEP


Universidad Popular Autónoma del Estado de Puebla (UPAEP) is ranked in the Top 5 Private universities in Mexico. The university is known for its basketball and soccer teams, and student groups are active in theater, dance, chorus, speech and debate, photography, and animation. Total university enrollment in 2000-2001 was 7,000. UPAEP has an exchange program for students, faculty, and curricula with Oklahoma State University.

In 1995, Several faculty and students from UCO were invited to participate in a conference, The Social Role of the Graphic Designer, in Puebla. Later, I was asked to join the faculty as a Visiting Professor. I taught a graduate course, Design Systems, in the summers of 2000 and 2001. It was an intensive course in which student teams developed a name, logo, route map, station signage, promotion pieces, and website for a new subway system in Puebla. I hired a former student to translate my materials into Spanish and I prepared the lecture outlines in Spanish. However, a few weeks before leaving, the design program director informed me that they wanted me to teach the course in English. Great. Turns out that the grad students have to take the TOEFL exam and he wanted them to practice speaking and writing English. That turned out to be less stressful, but I did have a couple students who were not fluent in English - other students and I would translate for them. The course was a seminar format. I prepped all the assignments, info, and course syllabus into a somewhat lengthy booklet. It helped both the students and I stay on track.
It was a wonderful experience. I spent several days before and after the course enjoying Puebla and Mexico City.





Course information and syllabus




Design Systems



The course, Design Systems, allows the graduate student to apply knowledge and skills to a major comprehensive project. This project includes the assessment of a design problem, development of a name, logo design, map design, environmental graphic design, advertising design, web page design, and effective presentation skills.


Course objectives


Design Systems will help students to:
• Grow as decision makers, creative problem solvers, and persuasive communicators.
• Better understand the systems used in creative problem solving.
• Enhance their inherent sense of design through problem seeking, and problem solving.
• Help open their minds to think in new ways.
• Encourage greater attention to detail.
• Analyze effectiveness of graphic design.
• Practice clear communication of message intent and content.
• Improve confidence in speaking, writing, and understanding American English.
• Develop composition and typography skills.
• Make effective oral presentations of their work.


UPAEP mission
To help create fluent thinkers and develop leaders that can transform our society.

Instructor


Jim Watson, Emeritus Professor of Design at the University of Central Oklahoma, teaches History of Graphic Design at the University of Oklahoma and at Oklahoma State University. He has taught design for 30 years and is active in the Oklahoma design community and is a founder of the Oklahoma chapter of the AIGA (American Institute of Graphic Arts).


Course grade


The grade for this course will be based on critiques of student work, class participation, meeting deadlines, and attitude towards design.
The course grade is an average of these grades:
• 10% Worksheet 1: the name
• 10% Worksheet 2: the logo
• 10% Worksheet 3: the route map
• 10% Worksheet 4: the poster and slogan
• 10% Worksheet 5: the website home page
• 20% Oral presentation
• 30% Final presentation board


Grading point explanations


0 is earned if nothing is turned in by deadline
3-5 is earned for work that is below average
6 is work that is average
7-9 is earned for work that is above average
10 is excellent, with no room for improvement


Earning a 9 or 10


Excellent students attend class regularly and on time, turn in work on time, conduct thorough research, manage time efficiently, participate in class discussions and critiques, do more than is asked for in projects, show a strong inherent sense of design, and do not settle for 'good enough'.


Responsibility for learning


Teachers can only provide information and motivation. The responsibility for learning and understanding is entirely up to the student. You determine what you get out of any course. Make up your mind to grow, set high standards for yourself, and push yourself to excel.


Student participation


Great designers are active, progressive, and assertive participants in their personal and community environments. Class participation is volunteering information, suggestions, and opinions during class discussions and critiques. Be confident to speak up about what you think.


Meeting deadlines


An objective of this course is to develop successful professional graphic designers. To best meet that objective, each worksheet and project must be turned in by the deadline (the beginning of class, unless specified otherwise).


Attendance policy


Attendance will not be taken, but missing a class will reflect in the quality of the design project by limiting input into the project from the instructor and the other students.





The project: A mass transit system for Puebla


As Puebla grows and there is more concern about traffic, air pollution, and the efficient movement of large numbers of people; the city of Puebla will consider the development of a mass transit system including surface rail or subway routes. Design Systems will develop this rapid transit system and the specific components listed below.


Proposed timeline


2008 Presentation of proposals
2016 Construction of Phase 1 begins
2020 Introduction and promotion of system
2025 Phase 1 of system completed
2040 Phase 2 completed


Components of the project


• Problem assessment: Mission statement, Statement of the design problems, Target markets: primary and secondary, Objectives of design solution
• Name of transit system
• Logo/identity for transit system
• Rider card
• Route map and station locations
• Signage: Station identification and Directional wayfinding
• Poster with promotion slogan
• Website home page
• Presentations: Oral and visual


Course schedule

Monday


Introduction and assessment
• Overview of the course and project
• Discuss students: assess, goals
• Definitions of terms
• Communication
• The problem solving process
• Creativity, devolving
• Neurobic activities
• Mind games
Project assessment
• Mission statement
• Stating the problem
• Determining the target markets
• Setting objectives
Discuss: naming the transit system
Identity design, and branding
Info & slides: symbols, logos
Worksheet assignment:
• Name and logo concepts
• Logo sketches


Tuesday


Presentations: transit system name
• Critique logo sketches
Info & slides: modern map
Worksheet assignment:
• Logo comp
• Map layout: routes and station locations


Wensday


Presentations:
• Critique logo comps
• Route map/station locations
Signage:
• Identify station locations
• Directional wayfinding
Promotion and advertising
Principles of layout composition
Worksheet assignment:
• Slogan and poster sketches


Thursday


Presentations: poster sketches
Info & slides: web design
Worksheet assignment:
• Website home page


Friday


Presentations: website home page
Prepare final presentation:
• Write rationale text
• Layout composition of board
• Mounting pieces


Saturday


Presentation of final project
• Pieces mounted
• Persuasive
• Rehearsed



Below: Some lecture notes and work in progress for class discussions.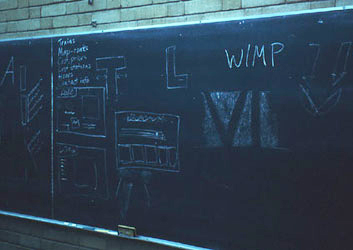 Below: Student's final projects.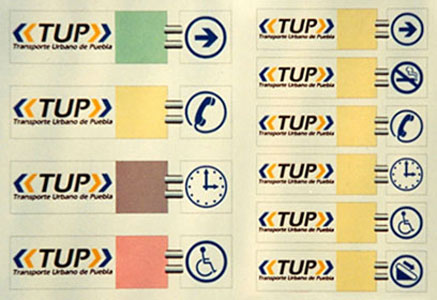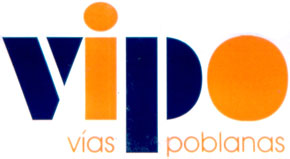 Below: The 2000 class of graduate students.


Presenting at the Encuadre International Design Conference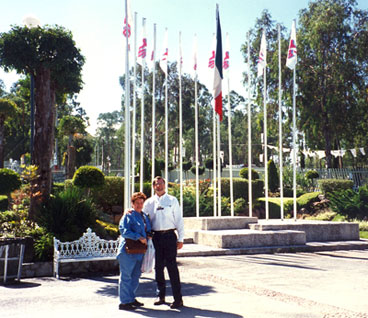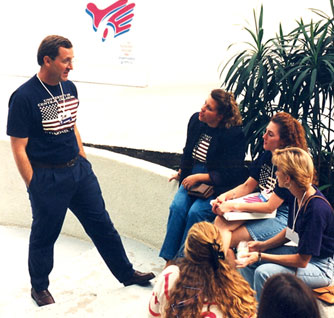 JoAnn Adams and Jim before Jim's presentation at the conference. Some of the UCO students.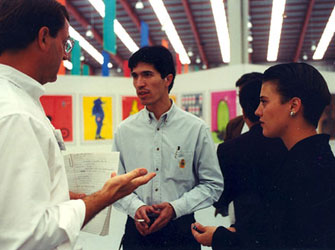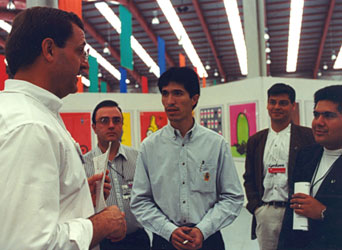 Luis Limon, the head of the Graphic Design program, and a design student; some of the UPAEP design faculty.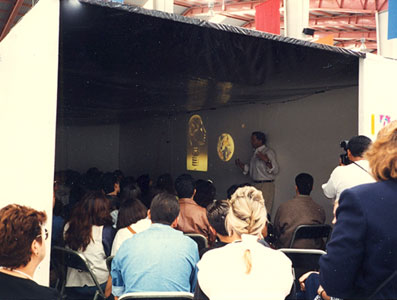 The workshop in the Conference Center.


Jim and student Bret escaping from the tour bus to explore the town of Cholula. The UCO group at dinner.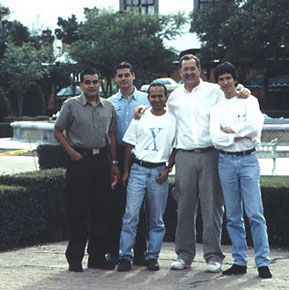 Watson with some of the faculty and students in Graphic Design.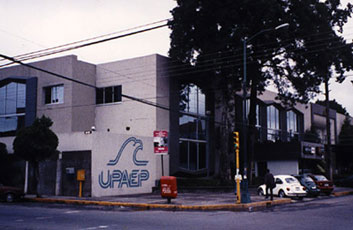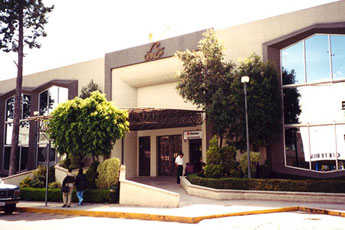 The campus occupies several urban blocks in Puebla. The buildings form and face an interior courtyard. In the center is the Student Union.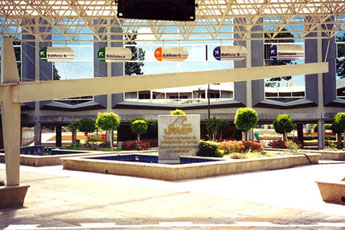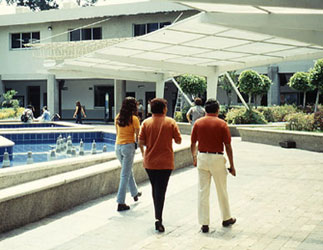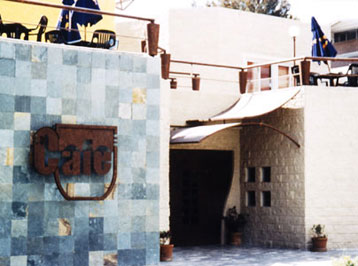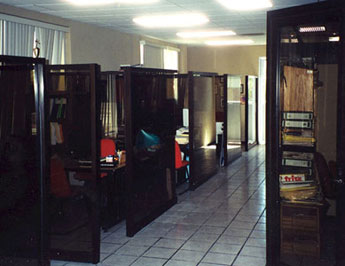 The Union Cafe; Faculty offices in the design department.



Travel fotos and stories about trips to Puebla & Mexico CIty
1973 December 22-28: Mexico City Family Christmas
1995 October 24-29: Puebla: Encuadre International Design Conference
2000 June: Puebla y Mexico City: Design Systems graduate studio course
2001 May 19-28: Puebla: Design Systems graduate studio course
2008 March 27 - April 1: Mexico City y Puebla: Accompanying UCO Dancers