Logo for the Uniform Shoppe
By James Robert Watson, PhD

Intro
The owners of The Uniform Shoppe in Oklahoma City, a husband and wife team, wanted to explore updating and upgrading the identity for their shop in North Oklahoma City. They contacted ClockTower Studio at UCO through a referral. ClockTower's schedule was booked solid, so I took on the project myself.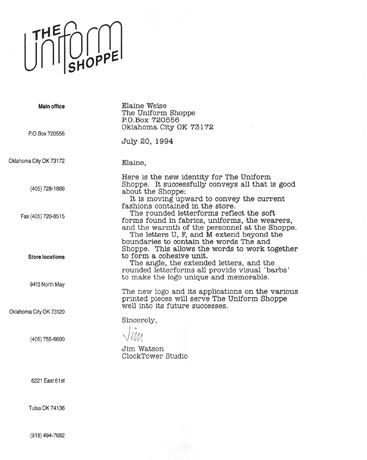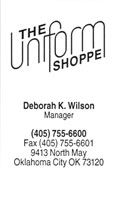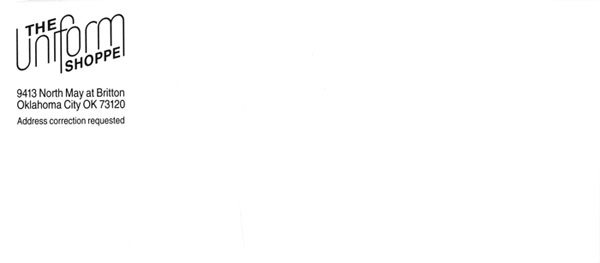 Rationale

The new identity for The Uniform Shoppe successfully conveys all that is good about the Shoppe:
• It is moving upward to convey the current progressive fashions contained in the store.
• The rounded letterforms reflect the soft forms found in the fabrics, the uniforms, the wearers, and the warmth of the personnel at the Shoppe.
• The line weight and curves suggest the forms familiar with clothes hangers.
• The letters U, F, and M extend beyond the boundaries to contain the words The and Shoppe. This allows the words to work together to form a cohesive unit.
• The angle, the extended letters, and the rounded letterforms all provide visual 'barbs' to make the logo more unique and memorable.


Update

The new graphics package was presented to the owners of The Uniform Shoppe. One of the two had been skeptical of changing the identity and reprinting the pieces. After the presentation, he enthusiastically agreed to adopt the new look. Pieces were printed and a new sign was produced and installed over the store.


Dates

Design and production: 1998



Home • Email Jim Watson • Filename to share: http://www.jamesrobertwatson.com/uniformshoppe.html