Trip diaries: Africa and Europe




Aswan, Cairo, Thebes/Luxor; Amsterdam, London, Milan, Nice, Paris, Rome

In chronological order. For the complete list of all trips taken, see Jim's Chronology.
See separate files for trips to:
USA
New York
Disney parks
Las Vegas
Mexico
Link to more fotos on



1981 • August 14-28 • Egypt, London, Amsterdam
• Friday: Flight to London, 747, movie: Private Benjamin.
• Saturday: Arrive Gatwick airport, train to Victoria Station, cab to Piccadilly Circus Hotel; walk to Design Centre, hotel, got ticket to Cats; sightsee bus tour with mom, hotel: nap; Cats, hotel: eat cheese & crackers, sleep; up at 2:30: walk to Palace, sleep.
• Sunday: Walked to Savoy Hotel breakfast, walk along Thames, 10 Downing, Horse guards, Big Ben, Westminster Abbey, Buckingham Palace: changing of the guards, Victoria Station, subway to St. Paul's; City of London Museum, British Museum, hotel: eat.
• Monday: Sub to museum, Design Centre book shopping, National Gallery, Trafalgar Square, lunch with mom, hotel; cab to Heathrow, snack at airport. Flight to Cairo. Customs, cab to Ramses Hilton, sleep.
• Tuesday: Breakfast in hotel; tour Cairo, Museum, Pyramids; hotel: nap, dinner.
• Wensday: Early flight to Luxor, boarded boat Osiris, lunch on ship, carriage ride to Sound & Light show.
• Thursday: Bus to Denderah and Temple of Hatshepsut, evening at Luxor Temple.
• Friday: Bus to Valley of Queens, King Tut's tomb.
• Saturday: Cruised to Esna temple, Edfu & Temple of Horus, Kom Ombo; costume party on ship, I was Tut.
• Sunday: Temple of Kom Ombo, left for Aswan before lunch, visited botanical gardens by felucca; checked in to New Cataract Hotel, felucca ride, dinner in hotel.
• Monday: Early flight to Abu Simbel to explore temple of Ramses II, left Abu Simbel, stop in Aswan, to Cairo at 7p, Hilton hotel.
• Tuesday: Left Cairo at 6:45, Istanbul, arrived in Amsterdam at noon, cab to hotel. Walk around town, media show, beer in cafe; walk to Dam, churches, Burger King. Mom and I went on evening wine & cheese canal boat tour.
• Wensday: Bkfst in hotel, city bus tour in morning - diamond factory, Rijksmuseum. hotel: lunch. Mom and I went on tour to Leiden, Delft, Hague, North Sea, Madurodam. Dinner in hotel.
• Thursday: Bkfst in hotel, I walked city, museums, Anne Frank house, train station, subway: Rembrandt house, Van Gogh Museum, train ride. Dinner at 5 Flies restaurant.
• Friday: Morning in hotel room. Left Amsterdam at 2 for Chicago, customs, Dallas at 9:30.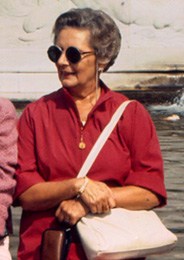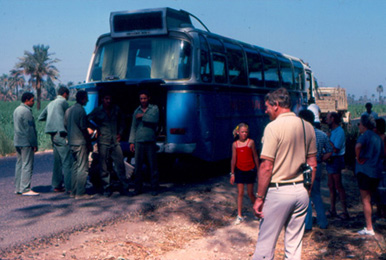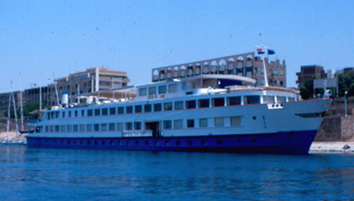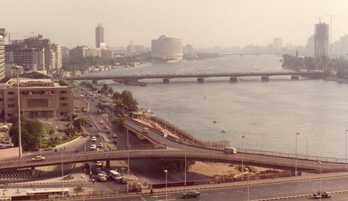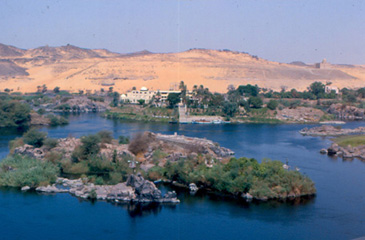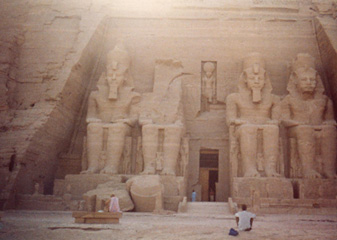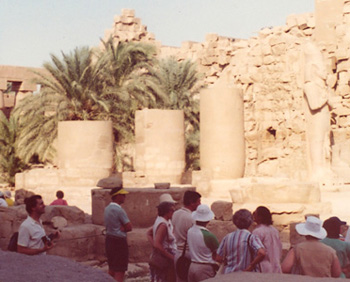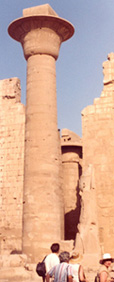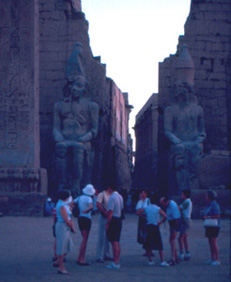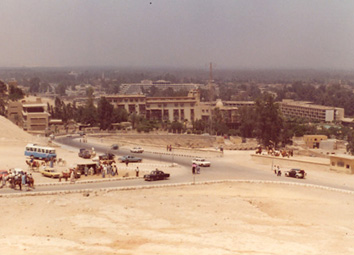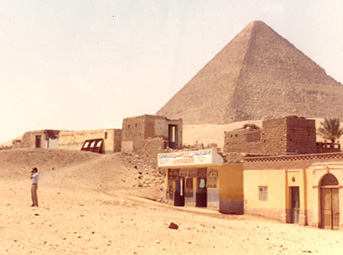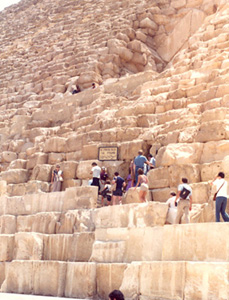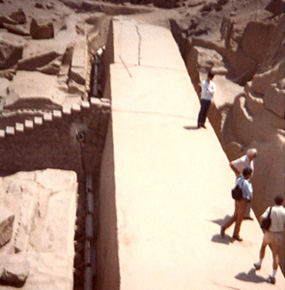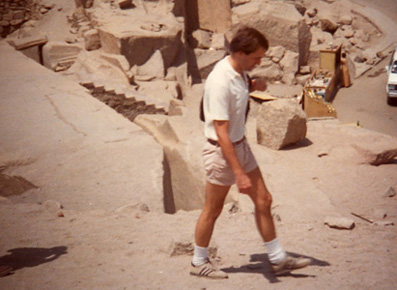 1990 • May 14-30 • London, Paris, Rome
• Monday/Tuesday: Flite, Dallas couple, A&M guys, doze; Gatwick, bus to hotel Kennedy, rest; Tube to Leicester, tkt to Blood Brothers, Covent Garden; Hotel: dinner, rest, shower; tube to Albery: Blood Brothers; Piccadilly muffin, hotel.
• Wensday: Bkfst in room; tube: Parliament, Westminster Abbey, Buckingham Palace, changing of guards, Victoria Station, tkt to Starlight Express; tube to Piccadilly, tkt to Aspects of Love, muffins, Design Centre: books; tube to hotel; tube Aspects of Love matinee, Trocadero, London Pavilion; Victorian Station, sandwich, book store; Starlight Express, dinner: Victoria Station; tube hotel.
• Thursday: Bkfst, did laundry in bath tub; tube Covent garden, Transport Museum: Henry Beck, pasta lunch, walk to Leicester, Piccadilly, Design Centre: buy books; Craft Council Gallery: lettering, walk mall to St. James, Dunhill, Piccadilly; tube Victoria & Albert Museum, Harrod's; tube Covent Garden, sit rest; tube hotel dinner; tube Covent with Mark: beer, see Princess Anne at Miss Saigon; tube, sleep.
• Friday: Tube Covent: try Saigon tkt, coffee; tube Tower of London, walk bridge to Design Museum: Sport, research, lunch: Blue Print Cafe, river view, design syllabus format; Tower Bridge Observation; tube Liverpool Sta: new buildings, walk to Geffrye Museum: 50s Style; bus to Liverpool, Leicester: bought tkt; tube hotel, shower; tube Leicester, walk Covent, sandwich, Miss Saigon, walk Covent, Leicester crowds; tube hotel.
• Saturday: Bkfst hotel, bus thru London to Canterbury, Cathedral, town, jog back for stragglers; bus to Dover: white cliffs, ferry, deck for departure, scotch in bar; Calais France: bus, train thru northern France to Paris; Station Nord, taxis to Hotel de Berne, rest, walk to dinner, walk Moulin Rouge, sex shops, walk home.
• Sunday: Sleep in, wait an hour in lobby, metro to Picasso Musee - I walk on to Guimard's Nouveau synagogue, croisse and caffe in park with Rose State women, Picasso's cubism; metro to bus to Versailles: snack, Palais, rooms, gardens, fountains; bus/metro to dinner; metro with Ching, walk to Pompidou: architecture exhibit, views, Place des Innocents, drinks with Mark Ackerman; metro home.
• Monday: Bkfst, metro Opera House (drizzle); metro Louvre: pyramid, Medieval castle, coffee, walk Seine, Notre Dame, lunch: Tex Mex, Sorbonne; metro Gate, Pompidou; library: Modern Art; metro hotel, dinner; metro walk: Rue Raumar (Nouveau), Pl Innocentes, crepe, Starck cafe, VIA, Seine, sit, walk Rue Rivoli; metro hotel.
• Tuesday: Metro to Jasmin, walk, shop, Corbusier's Villa Roche, walk, Guimard's Nouveau apartments; metro Louvre Musee des Arts Decoratifs (closed), shop, Louvre Biblioteque: Art Deco scrapbook & poster, lunch: salad bar, Tullieres gardens, nap, Grand Palais, bridge, walk back to Concorde; metro Montmarte: artists, church, view, Lautrec studio Moulin Rouge, hotel rest; walk dinner, metro Seine, Ching and I to Eifel: city, sit, night lights, across Seine; metro hotel.
• Wensday: Bkfst, talk with Bill; metro Arc de Triumph, walk Champs, Grand Palais, Musee d'Orsay: lunch, Nouveau; Opera House, leave clothes on fence, Arts Decoratifs: furniture show; metro park: Boules, mall Cafe Costas, VIA shop; metro room, with Ching to Montmartre: walk, church, sunset, Ching lit candle & prayed for my Italy trip, artists, cafe: wine, hotel.
• Thursday: Pack, bkfst with Bill & Lois Joseph; metro to Gare de Lyon, train, stand in bar, switched seats, saw Marseilles, Mediterranean, Cannes, Nice; panic over unfamiliarity, walk towards sea, found great Hotel Trianow, change to shorts, walk along Cote d' Azur, jog, sit, walk shopping streets, dinner: salad, chicken sandwich, walk to sea, wade hotel, shower in tub.
• Friday: Pack, walk to station, validate Eurailpass, bkfst in station cafe, train along Riviera to Monaco, customs at Ventimiglia, lunch: sit on steps, walk streets, changed money to lire, back to train, into Milano, big stazione, walk for hotels - all full or expensive, gave up and took expensive, changed, metro (new and clean), walk to the Last Supper, pasta at cafeteria, walk to Duomo, old lacy Gothic, Galleria, La Scala, Duomo, walk hotel, read, shower, bed.
• Saturday: Pack, metro to Dali exhibit exterior, walk to Duomo, Galleria; metro to hotel, rest, pack, check out, walk to Stazione, lunch: pasta, board train for Rome: 5 hour ride: good seat, cappuccino, work read guidebook, dept logo, stazione, call hotels (full), check bag, walk to Pensione Marsala: 40,000, Okay, get bag, unpack, walk area, dinner: Piazza Republica lasagne, wine, hotel, wash sox/underwear, sleep.
• Sunday: Shower upstairs, buy metro pass, metro to Colosseo, walk around upper deck, metro to Ottaviano, walk to St. Peter's, sandwich & cappuccino, square, basilica, climb steps to top of dome, walk street, cross river, Piazza Novana, lunch: lasagne cappuccino, walk Pantheon, gelate, Campidoglio (by Michelangelo), Forum overlooks, prison of Peter & Paul, walk to Colosseo; metro, home, nap, metro Barberini, TWA, ate, gelate, Trevi fountain (scaffolded), Piazza Romana, galleria, Via Condotti to Spanish Steps, walk around; metro hotel, bought earplugs (helped some).
• Monday: Bought metro pass, metro to TWA: changed flite, design shop, furniture store, walk by Trevi, gelate; metro Ottaviano, lunch outside, walk to Vatican Musee: Sistine Chapel, coffee in Ristori; metro hotel, nap; metro Via Veneto, buy menu with ads, Villa Borghese giardino, overlook, obelisk, over Spanish Steps to Pia Napoleon; metro Republica, dinner: wine & lasagna, Pia Esquilino, termini, hotel.
• Tuesday: Metro Colosseo, Pia Venezia, Pia St. Ignacio, Via Giulia along Tiber: book and furniture stores, cross Tiber to Castel, wander to Pantheon; metro hotel, lunch by Termini; metro to Circo Massimo, hotel, nap, McD: coffee & shake, wander, shop (tie), pizza, gelate; metro hotel, pack.
• Wensday: Pack, walk Termini, croissant, board bus to airport; flite delayed, check luggage, walk Le Galleria, buy Amaretto & biscuits, eat & drink, board plane: great leg room seat, next to May & Nathan Rosenbaum: wedding anniversary; connect through Saarinen's TWA terminal, make NYC-STL flite: good seat, transfer to OKC, another aisle seat next to empty; Bill, Ashlie, & Mike met me at gate, walk to concourse to meet Bill, Jane, & John Pickard, get luggage (mine not make it) dropped me at home (5am Rome time), fell asleep, up at 4a, sleep, up at 8, luggage arrive at 10:00, Wallo's brought car over at 10:15.

1996 • May • Paris
While having lunch in the UCO Student Union, I saw an ad in the Oklahoma City newspaper: round trip from Oklahoma City to Paris for $298. I couldn't resist. Why not? I stayed at Disneyland Paris (no longer called EuroDisney) in the Arts & Crafts hotel, and had a blast: Disneyland, new hotels and shopping/entertainment district, Paris for a day: walked and enjoyed getting mentally lost in the City of Lights. Had seen all the tourist things on earlier trip so took the Metro out to some neighborhoods and wandered.
• Saturday/Sunday: Flite, sit with Mike & Deedee, walk St. Louis airport, flite: change seats movie, food, sleep; DeGaulle: exchange money, luggage, bus to Sequoia Hotel, check-in, room, nap, to Disneyland thru Festival and Hotel, bought 2-day pass, 4-11p: rode all rides, Elect parade, dinner: Plaza Garden, hotel, sleep.
• Monday: Bkfst hotel, coffee & pastries, wander hotel, room rest, Santa Fe Hotel, Cheyenne Hotel, Parc: rides, parade, Plaza Garden veggie plate, coffee in Adventure Land; train station, buy ticket; walk parking lot, shuttle bus to hotel: room, pool, gym, jacuzzi, dinner: Beaver Creek restaurant, room.
• Tuesday: Lobby, shuttle bus to train station, coffee & croissant; train to Paris, restroom in a cafe, walk Pompidou store, Seine, Louvre (closed) plaza, gardens, mall, lunch; metro Jasmin, Corbusier: sat in chairs, Ave Mozart; metro Trocadero, view Eiffel; metro Arc: elevator to top: views;metro La Defense: up top of new arch, plaza; metro Arc, sauntered Champs: Planet Hollywood, Disney, sculptures to gardens, terrace view: said goodbye to Paris, Louvre carousel; metro/train to Disneyland, walk Festival, talk with ex-Friday's at Annette's Diner, Los Angeles Bar & Grill: pizza & salad, comped wine (diner mgr had called), walked Festival, to Lodge, sleep.
• Wensday: pack, walk Newport Bay: bkfst in Yacht Club, promenade to Festival, shop, room, check out; bus to airport, check in, last to board, nice flite: movie, food, puzzles, easy customs, got standby seat on earlier flite: walked to galley and spent entire flite there, visited with people incl Lloyd Noel & wife; WRA, home.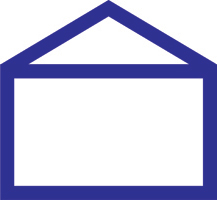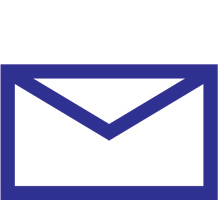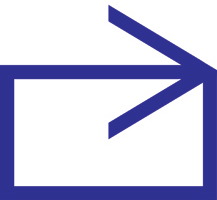 www.jamesrobertwatson.com/tripseurope.html