TravelPants


I travel a lot - sitting, waiting and riding on planes. A recurring problem is accessing stuff in flight, keeping stuff handy, and storing it conveniently. Normal pants pockets work great when standing, but not so great when seated - the pocket openings are hard to reach, the contents are hard to access, the plane armrest blocks the pocket, and stuff falls out of the pocket. Pants pockets need to be accessed from the top when seated, be located on the pants leg in an easier to get to place, and be designed to more easily pass through security screening.



Introducing TravelPants







The first pair of pants with pockets that are easy to access while seated.



A pair of pants with removable leg pockets that are easily accessible both while standing and while sitting.
Made of comfortable easy-to-care-for fabric (no metal - easier security screening) with standard pockets near the waistband. Farther down the leg are pockets that can be removed for security screening, repositioned so the tops are facing up while seated, and located on the leg to not be obstructed by the seat armrest.
The pockets are roomy enough to hold multiple items (wallet, pda, pen, glasses). In the back of each pocket is a button to better secure the pocket to the pants leg. The button hole is in the center of the pocket so it works for either orientation - standing or sitting. The pockets are the same on both legs so they are accessible from either side - depending on where other passengers are sitting.



Prototype


I built a prototype by removing pockets from one pair of sweat pants and gluing them to another pair. I tested it on a flight to New York City in July, 2005. It was a success. My glasses, pda, iPod, wallet, and pen all fit in the pockets and the items were very easy to access. The contents also stayed in the pocket when I stood and walked down the aisle to the restroom.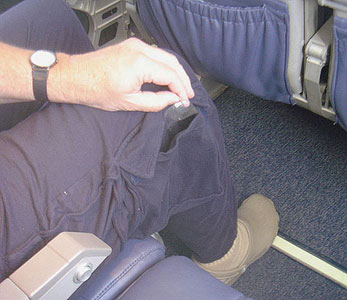 (I was using my left hand to access the pocket because I was holding the camera in my right hand.)



Features of TravelPants




Repositionable pockets for easy access to objects (wallet, pda, pen, glasses) - pockets with top openings while seated.


Convenient access - pockets located beyond the armrest.


Removable pockets to put in security bin without having to empty pockets.


Pass thru security with minimal hassle - elastic or drawstring waistband - no need for a belt with metal buckle.


Easy-to-care-for machine washable fabric.


Comfortable - generous cut legs and breathable fabric.


Pockets large enough to hold multiple items - camera, wallet, pda. Corners of pockets rounded so small items (loose change) can't get buried.


Same set of pockets on each leg so items will be accessible from either side, depending on which side other passengers are sitting.


Standard pockets for walking thru airport and convenience at check-in counter and when buying stuff in airport.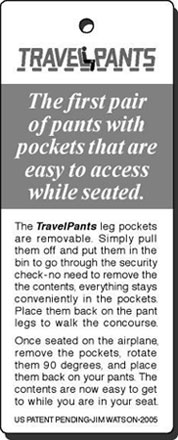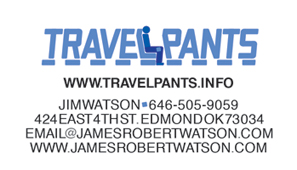 Rendering of prototype, Info on garment tag, Business card.



Website Design


Designed by Bill Davis and Jennifer Zink, the concept related to the safety instruction card one gets on an airplane. The target audience would easily comprehend the connection.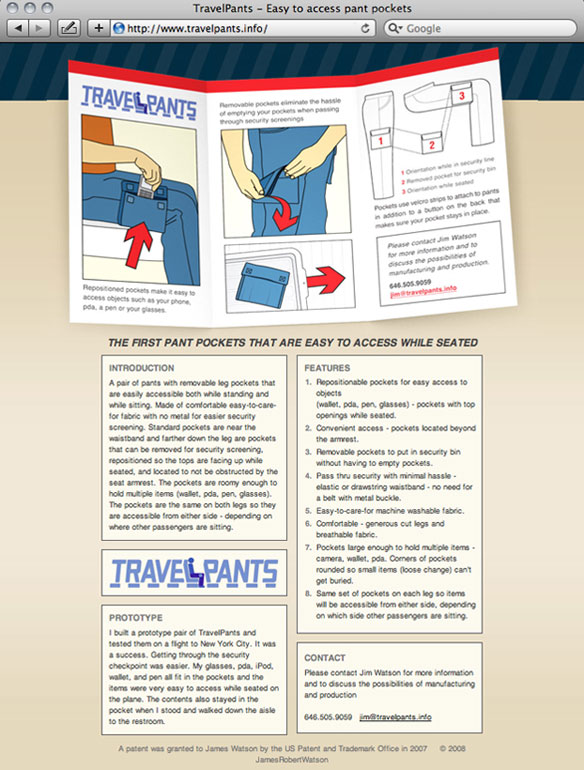 The TravelPants logo
Link to info about the logo




History and development


In the mid-seventies, I designed and had made some pants with pockets shaped like shown at left. Those pockets addressed the problem of keeping items in the pocket when seated (even today, with traditional pockets, my phone/pda often slides out of my pocket when I'm seated in a car). I had a friend cut the fabric, sew, and build the pants. They looked a little weird, but the pockets were more effective and encompassing. Later, while flying, I had a tough time getting to items in my pants pockets. It was then that I realized the need for a new design of pockets for travel pants.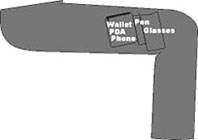 Early sketch showing multiple pockets



TravelPants at the Wes Watkins New Product Fair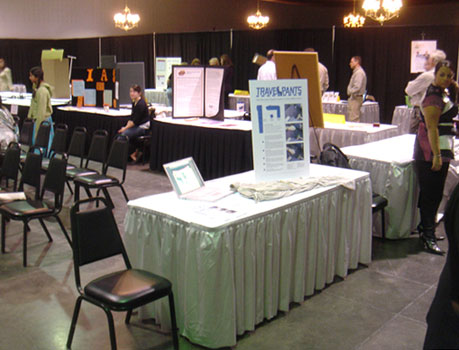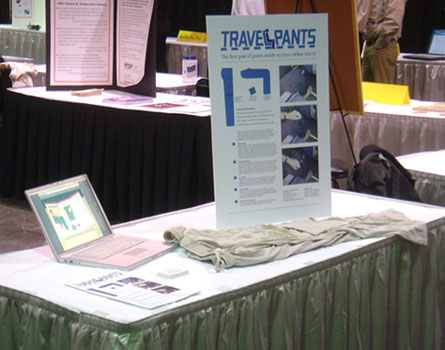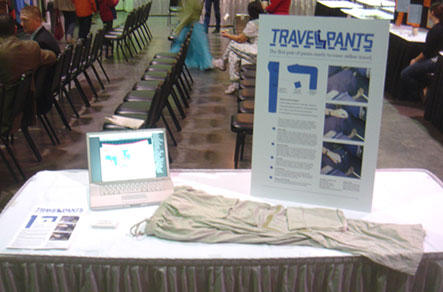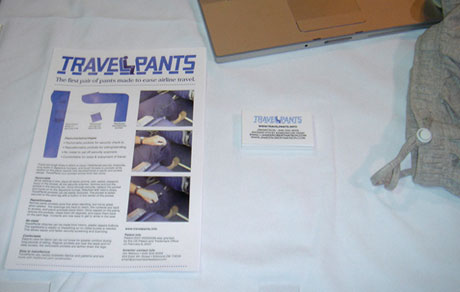 I wore a pair of the dark blue prototype pants to demonstrate to visitors to the table and the judges. The pants were awarded a check for $100 and the morning fair at OSU was a lot of fun - saw some other great products and met some neat inventive people.



Dates


Concept: Fall, 2004
Sketches: May, 2005
Name and logo design: June, 2005
First prototype built: June, 2005
Prototype tests: June & July, 2005
Website design funding: James W & Lorraine Watson
Website uploaded: August 20, 2008
Website: www.travelpants.info
Watkins New Product Fair: December 5, 2008
Website removed: July, 2011



Eddie Bauer




Saw this pair of cargo pants at Eddie Bauer in 2012. It is quite similar but the side pocket is still not quite as convenient as it could be.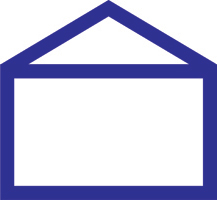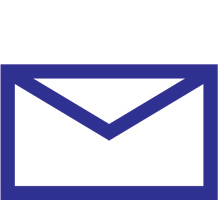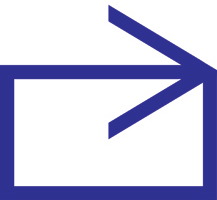 www.jamesrobertwatson.com/travelpants.html