Activities: Roots to build a strong foundation
The Idea Kit: Tools and information to enhance your creative problem solving skills
A compilation of readings, thoughts, and discussions with students and faculty in Texas and Oklahoma. Copyright: 1998, James Robert Watson, PhD

Roots to build a strong foundation
• Conduct periodic self-assessments.
• Center the inner alpha spirit.
• Play hard: exercise regularly.
• Eat like your life depended on it.
• Simplify, let go, garage sale.
• Yes, I Can: affirm positively.

Wings to soar: explore, experience, enjoy

• Address and embrace fears.
• Practice solving mind games.
• Laugh like a child.
• Neurobics: break the crust of habit.
• Scratch the itch, do something.


Commit to action

To grow as a creative problem solver you should make changes in your behavior. To change behavior you must change your attitude. The activity exercises in The Idea Kit can help you grow by providing additional motivation to change your attitude. The activities encourage you to make public commitments to achieve specific results in your journey to become a better creative problem solver.
Review the information for the activity. Determine what attitude you would like to enhance or change, determine an appropriate activity, and the results you expect to see in your attitude and your life. List a specific task you will do to accomplish that objective. The activities should be very specific. Review it before you go to bed. Read it when you wake up, while doing your morning exercise stretching routine.
Discuss your plan with someone else: friend, spouse, parent, child, or any significant other in your life. Making your activity commitment public provides extra incentive and motivation for you to accomplish the task.
There are many things you can do to become a better creative problem solver. Following are some activities and exercises to practice to help you in your growth. They are probably in order of importance, but maybe not. Skip around if you'd like (who will know?) Work on one or two areas, then come back and do others, or go straight through all of them, it's up to you. There is no single best way to enhance your problem solving skills. You know what is best for your growth.
The purpose of these exercises in The Idea Kit is to encourage and help you to open your mind. To be more tolerant, more accepting. To change your life, attitude, mind. To help you get great ideas easier. To creatively solve problems. To have more fun and enjoy life for its wonderful adventure.


Roots and wings to grow

To become a better creative problem solver, it is necessary to build both roots and wings. Roots to provide a secure stable foundation from which to operate with esteem, courage, and confidence. Wings to encourage you to explore, experience, and enjoy. To soar above. Order one set of Roots and Wings to grow.


Roots to provide a strong foundation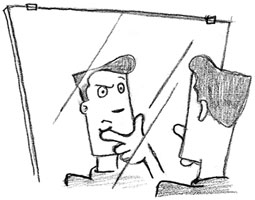 Root 1: Conduct periodic honest self-assessments

Self-assessment is important as a foundation to further growth, to determine the starting point, and the direction to grow. These assessments are very private and should be very honest. Don't kid yourself. Conduct them often, take stock of where you are in your growth, the progress that you've made. Reward yourself when you achieve some positive changes.
Question yourself, what are your likes, dislikes. What excites you. Where do you feel inadequate, uncomfortable, uneasy. Who are your role models. What is it about them that you admire and respect.
Figure out what's working in your life, enhance that and minimize the rest.
Writing in a journal is an efficient way to clarify your thoughts. It allows you to see on paper your inner thinking. Write in each area of growth: spiritually, mentally, and physically. Assess where you are right now. List your strengths. Relish them. Enjoy them. Emphasize them. Also list your weaknesses. Minimize those. Also write your goals and objectives for your life. Write some long term goals. What is the big picture, where do you see yourself in a few years, 10 years, at death, etc.
We all want: survival, health, be loved, appreciated, satisfied with our work, have fun, laugh.
Watson's secret to the game of life. Yep, I've figured it out. Here it is: the game of life is developing and experiencing a balance between making a responsible contribution to society and having a good time. Get it. Give and take, in balance. As citizens of the earth and our society, you have an obligation to impact that society, to make it better, to improve it. You can't change society but you can change yourself. Balance that with a childlike desire to have fun. Life is a hoot, after all. If out of balance, such as too serious pressure on making an impact, life's hardly much fun. If you're having too much fun, you miss the humanness of helping your peer earth citizen.
Be a truthar, not a liar. Truthars are more at peace.
Be non-judgmental.
Assess your direction, your future. Seek liberation and healing.
Review your journal periodically. This gap of time allows you to see your thoughts more objectively, with fresh eyes, and allow you to better evaluate where you are.

Assessment exercises

• Write in your journal.
• Take walks in the woods.
• Talk to yourself.
• Stare at yourself in the mirror.
• Write some more in your journal.
• Send yourself a birthday card.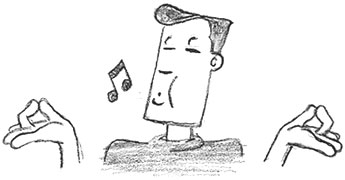 Root 2: Center the inner alpha spirit

Work at (if you're not already) seeking to grow spiritually: becoming more calm, at peace, trusting, faithful, worshipful, and acknowledging the tremendous power within that can be tapped. Achieve the Alpha state of mind. Heed the inner voice. Increase your self-confidence and self-respect with pep talks. Work at becoming more open, less judgmental. Try to get in touch with the inner quest or desire to address a power greater than what we can emit. Work towards a oneness with that power.
Be wary of religions that espouse only one correct way to accomplish something (salvation, forgiveness, etc.). There may be other ways. The close-minded approach of intolerance of differing beliefs causes much strife, tension, hatred, and a lack of compassion and forgiveness. Be tolerant, impose on no one. Avoid holding your beliefs so close that they become smothering and stifling. Becoming a fanatic about your beliefs is counterproductive. It closes your mind to new stimuli and new options. Give yourself permission to change your beliefs whenever you want. As you grow and change you will alter your personal values. Your value system is influenced by your environment, your parents, friends, health, etc.
All these external factors change constantly, so should you. Be open, tolerant, and accepting.
Realize that your self-esteem should not be based on the approval of others or on what others think of you. Earning their approval is certainly nice, but don't live for that. Accept and approve of yourself. Other's approval of you does not determine who you are or what you can do.
Like yourself. That's worth repeating: like yourself. You are talented, capable, and a creative problem solver. That's your birth status. If you don't think you are, its because you have deluded yourself or listened to the negative thoughts once too often. Love, lighten up, be less serious, laugh more. You can't change the world, just yourself, that's enough.
Acknowledge and appreciate your parent's guidance during your development. Forgive them for their restrictions and inhibitions. They did their best with the knowledge they had at that time. Let go of the past. Release any anger towards your parents and love them for their sacrifices. Forgiving is very liberating. It frees the mind for openness, innovation, and growth.
Do you feel you aren't capable of meeting adversity by yourself head on? Are you too weak? So weak you need a crutch? Shed your crutches. Keep them close by for a sense of security at first, but work towards walking on your own. You are certainly capable.
Inner focus, concentrate, search deep.
Slow down, calm down. Take it easy.
Humming exercise: lay relaxed, open mind, hum, let things out.
Morning routine: avoid jumping straight out of bed (a bit abrupt). Ease into your day. Affirm, talk to yourself, pump-up.
Shoulder shrug: "Oh, well"
Go camping by yourself. Eat in a restaurant alone. These allow you to be your own company, your own companion, your best friend. Delve deep into your friend, see her or him as a confidant, trusted peer. At first it may be scary or awkward, but relax and get to know yourself. There is nothing to fear, no reason to feel uncomfortable or awkward. Seek the calm and peace that comes from feeling comfortable with just yourself.
Like happiness or friendship, becoming a better creative thinker is not something that you can force or actively pursue. Mental barriers will form. Focus on your oneness and let go of any pressure or desire to achieve a specific result. The growth comes most rapidly and most effectively when you achieve a balance in your life.
Be at peace, one with the world. This is being centered. Acknowledging you are part of a larger whole, a necessary part, a joyous part.
Personal growth is an ongoing journey, not a destination. Achieve Alpha state through meditation, naps, and exercise.
Practice it and it gets easier. You can actually feel the shift in your mind. Its a brief shudder, a sense of calm, peace.
Imaging: close eyes, relax, achieve alpha and picture the action, result, idea, solution.

Centering exercises

• Verbally forgive your parents, they did their best.
• Read enlightening books.
• List all the things that make you really happy, dwell on them, cherish them.
• Watch a star fade into the sunrise.
• Stare at the moon, really stare.
• Shoulder shrug.
• Slow down, calm down.
• Hum.
• Walk in the woods.
• See a therapist.
• Say 'I Love You' to someone new.
• Meditate regularly.


Root 3: Play hard: exercise regularly

Our incredible creative minds are supported by a complex structure of bones, muscles, organs, nerves, and cells. The health of that structure affects the health of the mind. To grow most efficiently as a creative problem solver, it is necessary to grow physically: exercise, flexibility, strength.
Personal empowerment, strength and courage from feeling fit and healthy.
One thing I like about going to the gym to work out is the level of the energy there. The people at the gym are all trying to better their bodies, and their lives. They are pushing, excelling, and striving for growth. This attitude exudes an energy that can be infectious. I often get great ideas at the gym. The energy is very inspiring. I sometimes take pencil and paper to jot ideas from my head.
Working out encourages you to concentrate on the physical task of the moment. This concentration frees your mind from other disruptive thoughts. Allowing you to center and be more at peace.
I am baffled by the people who ride the elevator or escalator up just one flight of stairs. Are they really that tired or lazy. I understand some people may not be feeling well and ought to take the easier way, but most of us would benefit by the short walk. The exercise for our legs, lungs, and heart is great and the mental attitude that we are growing and improving is rewarding. Or how about the people who drive up and down the rows in the mall parking lot seeking that perfect place right by the door. Is it really so important? Is someone keeping score. What's the big deal with walking a few feet from the first available parking place to the mall door. The ultimate is when those row circlers park by the door only to go inside for their mall walking exercise.
Regular exercise increases your feeling of well-being, adds more years to your life and more life to your years. The physical activity helps release endorphins creating a natural euphoria. Activity increases blood and oxygen flow to mind, allowing it to operate more efficiently.
A great way to increase your level of physical activity is to act more childlike. Watch children. They are very active, very energetic. Its a great way for adults to live: skip down the hall (takes a lot of courage), run in the grass, do jumping jacks.

Physical exercises

• Jog or walk, really do it.
• Lift weights, any weights.
• Juggle. Requires focus and concentration. The satisfaction of the physical accomplishment is rewarding.
• Walk up the stairs, avoid the elevator.
• Don't park right by the mall entrance.
• Aerobicize regularly.
• Run, skip, jump, spin.
• Go dancing, often.
• Wake up early and do exercises.
• Make time for an exercise program.
• Just do it.


Root 4: Eat like your life depended on it

The nutrients we put into our bodies affects the efficiency of the mind's operations. Your mind needs fuel to operate. The main food of the brain is glucose (a sugar). Your brain weighs less than about 5% of your total body weight but uses almost 50% of the nutrient glucose. So maybe if you're up against the idea block, eat something sweet. Bananas can increase energy.
Some food is over processed and killed, dead. Fresh fruits and vegetables are live food. They are active. They contain water that is clean and pure. You've probably heard the new studies: complex carbohydrates are important, fiber, some protein. Less fat, salt, sugar, processed foods.
Eat from self-esteem. Let go, you're OK. No diet, just exercise and eat wisely. Diets, even though really means any regimen of eating (therefore we're all on a diet at any time) have taken on a negative connotation. So don't go on one. Its that simple. Just do what you know you should. Eating wisely is all a matter of mind. Once you've made that mental commitment, the physical part is easy. Nothing tastes as good as feeling slim, fit, and healthy. Stop right now. Go get a post-it note and write that out and stick it to your refrigerator. Nothing tastes as good as feeling slim, fit, and healthy.
Eat well. Live full.
Control your life and what you put into your body: brain support mechanism.
Don't deprive yourself of any foods. Revive, alive with good foods.

Eat exercises

• Try ethnic foods.
• Cook something new.
• Eat less sugar and white flour
• Enjoy fresh fruit, really enjoy.
• Eat foods that are alive.
• Do what you know you should.


Root 5: Yes, I Can: affirm positively

We program our minds with negative thoughts: I can't do that, that won't work, etc. You convince yourself of these truths. You can just as easily program your mind with positive uplifting thoughts. Affirm that you are creative: I am a creative person. I am open and alert to new possibilities.
As a teacher in a Department of Design I still hear, "I can't draw". The main reason these people say that is they continually program their mind to believe it. Your mind will believe what it tells itself. The first step to learn how to draw or learn any new information or perform any new task is to affirm that you can do it. Let your mind tell itself it is capable. Force your mind if you have to.
Replace 'I have to' with 'I want to'. Usually that is true. When we say, 'I have to get back to work', its usually true. You do want to keep your job, your income. You do acknowledge that to keep that you want to keep your boss happy and your company productive. 'I have to do my laundry'. You probably really want the clean clothes. Remind yourself that you can, you will, or you are. With sincere belief and repetition, your mind will accept and believe it. It may be tough but with practice these affirmations will become self-realizing habits.
To become a better creative thinker, acknowledge and affirm that your fears can control you, then let them go. Replace them with positive affirmations.
Replace problems with challenges and opportunities.
Choose to be great in this day. Just because you say so. The day is here, its coming, make the best of it: you are in control: choose to be great. Not make the day great, it already is. The day will be great or poor without you. It just is. The day (weather, events, traffic) can't be affected, but our attitude and response to the day can be affected. That is within you. Be great in this day. Be loving, positive, joyous, just great. Decide to be great and the day will, you will have a great day. Regardless of what the day brings, you can be great, its in your mind, your attitude. Make yourself great. Instead of 'Have a great day', say: 'Have a great you, You're great.'
Affirm out loud. By yourself if you're embarrassed.
Go get some Post-it notes. Write a positive affirmation on one and stick it around the house, office, or car. On the mirror stick one that says, "I'm attractive". In the office: "I am capable, talented, and creative". Determine the negative affirmations you are living by, write the positive version on the sticky note, and post it. Do it right now. Write out a slogan or two now. There's no better time. If you don't have Post-it notes with you now, jot the slogans on a scrap piece of scrap paper nearby and put it in your pocket or purse. Rewrite them to notes later. But do it right now. Don't worry about how great the slogan is. You're not trying to win some writing award, you're not trying to win at all, just grow. Later you will revise your slogans and tailor them for your specific needs. Read it throughout the day. Memorize it. Live it. Writing it out helps you to learn it and live it. The posting is just a reminder for you to relearn and relive it.
Sample slogans
• I'm willing to try it.
• I learn from my mistakes.
• I fail forward.
• I can make this work.
• I see problems as challenges.
• Opportunities, not setbacks.
• I am talented.
• I am capable.
• I am open to new attitudes.
• Anything is possible.
• I'll take more chances.

Affirming exercises

• Listen to yourself, really listen.
• Write down your negative affirmations and throw them away.
• Write down your positive affirmations and tape them to the refrigerator, mirror, dashboard, and telephone.
•Have friends point out when you say "I can't".




Home • Email Jim Watson • Filename to share: http://www.jamesrobertwatson.com/tikroots.html