Stationery design project
Introduction
Stationery is one component of a corporate identity program that may include a logo, signage, packaging, product labels, uniforms, trucks, etc. Stationery is most often used to conduct business with vendors, other companies, and, sometimes, the public. The target market may be slightly different from the audience for the other items in the corporate identity. A stationery package traditionally consists of at least 3 pieces:
     1. Letterhead for general correspondence
     2. Envelope (sometimes in more than 1 size)
     3. Business cards - usually one for each major employee of the company.
         Optional: invoice sheet size, note paper size, and note size envelope


Spelling

It is somewhat common for mediocre designers to misspell stationery. Stationary means 'not moving'. Stationery is printed pieces for correspondence. Memory aid: the word letter ends in er, the word stationery includes er. There can be stationary stationery, but make sure you show your intelligence by using the proper spelling in the appropriate context. Remember - no matter how much you push the envelope, it will still be stationery.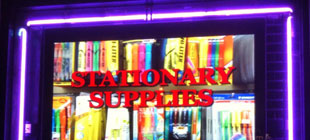 The above sign in an office supply store got it wrong. Very wrong - the images behind the words were animated - they were not even stationary.


Procedure

Review the notes, objectives, and descriptors for the logo. Determine a specific target market for the stationery package. The logo/identity should 'drive' the layout composition of the 3 pieces - all pieces should respect & enhance the logo - the concept of the identity should be the driving force in the stationery. The layout of each piece should convey similar adjective descriptors and meet similar objectives as those established for the logo. Consider which information belongs on each piece. Sketch layouts that enhance the concept. Consider the orientation (landscape or portrait) of each piece, paper stock, cuts and folds, colors, etc. On the letterhead, include a letter. No one (other than some award categories) will ever see a blank letterhead. The target recipient will see a letter - in fact, the letter is the most important element on the page, everything else is secondary. With most companies now printing letters on their office desktop systems, the designer can recommend and justify the specs for the letter - the font, point size, layout format, margin width, leading, and starting point of the letter. Write a letter that includes the design objectives so the client will have a document with all your intelligent rationale.


Standard sizes

      Letterhead: . 8.5" x 11" or 11" x 8.5"
      Card: . 3.5" x 2" or 2" x 3.5"
      Envelope, #10: . 9.5" x 4.125"
These sizes are the norm, but sometimes, the designer wants to make a statement that is not clearly conveyed by the 'norm'. To determine the most appropriate size, consider the audience, the content, how often the items will be used, budget/cost restrictions, filing and storing requirements, and mailing restrictions.


Resource links
http://www.belightsoft.com/products/companion/paper/envelopes.php

http://www.littlebit.com/general_info/envelopesize.htm
http://en.wikipedia.org/wiki/ISO_269
Business cards and checklist
Presentation

Build a presentation comp that includes the 4 major components - the 3 print pieces and the letter. Turn in a finished comp exactly as you would present to the client. Specs on color, size, paper weight, and printing will be dictated by the assumed (or actual) budget, project objectives, and target audience. On the envelope, indicate the address and a neutral stamp. On the letterhead, include the letter. All elements should be aligned with consistent spacing of the gaps between pieces. Suggested layouts: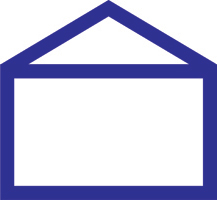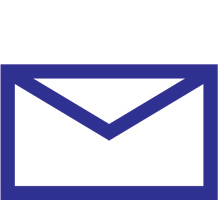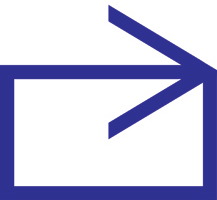 www.jamesrobertwatson.com/statlayout.html