The genius of Walt Disney


At age 23 - Walt Disney moved to Los Angeles and founded Disney Brothers. One of their first successes was the Alice Comedies - with the gimmick of combining live action and animation. The producer suggested a cute rabbit. Walt draws and names him Oswald. The president of the distribution company invites Walt to NY to discuss renewing the distribution contract, but swipes Disney's animators and reminds Walt that he had signed away the rights to the character. On the train back to California, Walt vowed to keep better control of his ideas and his work. He sketched a new character, based on Oswald the Rabbit; he shortened the ears to ovals, defluffed the tail, and called him Mortimer. His wife, Lillian didn't like Mortimer and she recommended naming him Mickey (she didn't mention at that time that Mickey was the name of her ex-boyfriend.)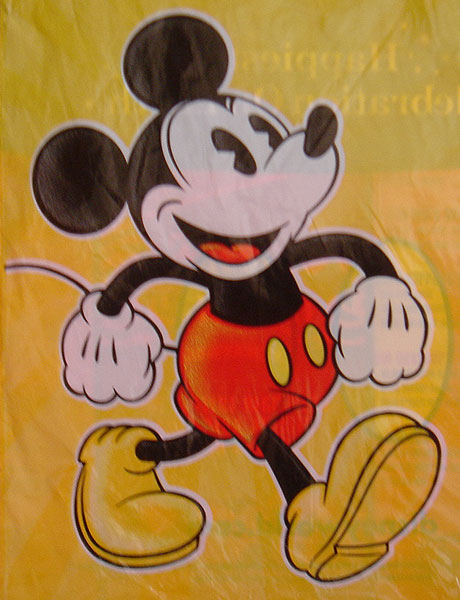 The first cartoon starring Mickey Mouse was Plane Crazy. In 1928: the first cartoon with sound was Steamboat Willie. His next project was Silly Symphonies, merging music and animation. Distributors weren't too enthusiastic so Walt presented them as 'Mickey Mouse presents Silly Symphonies'. They were the first cartoons in color.
1936-37: Snow White and the Seven Dwarfs cost 1 million to make and earned 8 million (at (25 cents for an adult ticket). That profit funded the new Disney Studios in Burbank. Snow White was a struggle - doctors claimed that people would hurt their eyes if they watched a full-length cartoon, bankers didn't think people would sit through a cartoon that was that long. If the price of movie ticket and the value of a dollar were equalized since then, Snow White would be the second highest-grossing film of all time (Gone With the Wind would be number one).
July 17, 1955: Disneyland opens. Walt's dream - a place where children and adults can enjoy a park together. Clean, safe, and comfortable (that's why we enter down a familiar and comfortable small-town Main Street).
Concern over whether East Coast people would accept a second Disney park in Florida was satisfied when Disney built 4 attractions for the World's Fair in New York City in 1964. To avoid the peripheral schlock that sprang up around Disneyland, WED bought large acreage near Orlando, Florida, under the name of 'Project X'. They set up 'dummy' companies to purchase the land so as not to give away the Disney name (which would cause higher prices). M.T. Lott was one such name. They paid $80/acre until the Orlando newspaper broke the story, then the land sold for $80,000/acre. The last few parcels of land cost about the same as the previous large bulk. It was to be called Disneyworld (like Disneyland) but Walt died before it opened and brother Roy changed the name and insisted it be called Walt Disney World to honor Walt.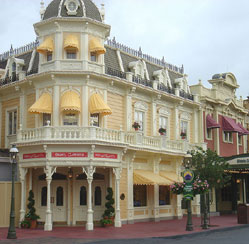 Examples of forced perspective - diminishing window sizes to suggest greater height.



Some highlights of Walt Disney World


•

Downtown Disney

, companies that are admired by Disney and invited to participate: the absolutely phenomenal La Nouba by Cirque du Soleil; restaurants from Gloria Estefan and Wolfgang Puck; shops; clubs; and theaters.
•

Resort hotels

: 17 properties, 25,000 rooms (as of May, 2005). Grand Floridian, the spectacular Wilderness Lodge with a the soaring lodge lobby. The design of the lodge is timber and rocks - straight from the National Park lodges in Southern Utah and the Rockies.
•

Magic Kingdom

: Main Street, Adventureland, Jungle Cruise, Splash Mountain, Liberty Square, Haunted Mansion, Tomorrowland, Mickey's ToonTown, Mickey's Philharmagic, Thunder Mountain Railroad, Splash Mountain, Pirates of the Caribbean.
•

Epcot

: technology pavilions and country lands.
•

Disney Studios

. The Great Movie ride (sorta hokey), Tower of Terror (excellent attraction), backlot tour (so-so), One Man's Dream - the Walt Disney story with artifacts and a great movie, the excellently awesome Rock 'n' Roller Coaster, Mickey's Fantasmic show.
•

Animal Kingdom

: 3-D bugs life film, Maharajah Jungle Trek, Kilimanjaro Safari journey, and Festival of the Lion King show.



Some quotes from Walt


"When you're curious, you find lots of interesting things to do. And one thing it takes to accomplish something is courage."
"Somehow I can't believe there are any heights that can't be scaled by a man who knows the secret of making dreams come true. This special secret, it seems to me, can be summarized in four C's. They are Curiosity, Confidence, Courage, and Constancy and the greatest of these is Confidence. When you believe a thing, believe it all the way, implicitly and unquestionably."
"Whenever I go on a ride, I'm always thinking of how it can be improved."



Disney inspirations




Storytelling

- Walt was a master at creating a synopsis. His mastery is carried on today - attractions, stores, and restaurants each follow thorough storylines. We humanoids love stories - they provide interest, empathy, life, connections, socializing.


Attention to detail

- the smallest element in the parks will have been thoroughly thought out and executed with finesse. There is no public rest room in Liberty Square because those didn't exist at that time. The restraunts have restrooms but they are technically in other adjoining lands.


Innovation and exploration

- Walt stayed ahead of the technology curve by envisioning attractions and films and then challenging the staff to make them happen.


Lures

- Walt called them 'wieners' At the end of each major street is a lure or enticement (the castle, rockets, buildings, etc.) that pulls you in to that area. Such barbs are used to grab a viewer/reader's mind.


Maintain control of production

- burned by the "theft" of the rights to Oswald the Lucky Rabbit (which led to Mickey)


Control view/viewer

- provide planned vistas, signage, trash cans


Cast member keys to success

: Safety, Courtesy, Show, and Efficiency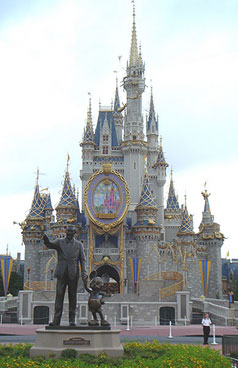 Statue of Walt and Mickey at WDW.
The Team Disney Animation building in Florida.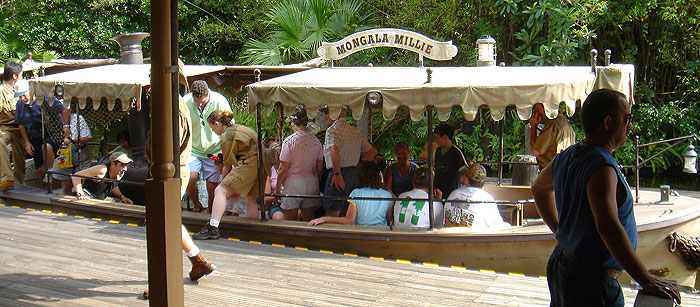 Walt's favorite attraction: The Jungle Cruise. He wanted live animals but was told that they would be sleepy in the afternoon sun and that it would not be easy to control their whereabouts. So, Walt set out to develop animatronic animals that would perform on cue, all day long.



Some notes made while sitting at Disneyland


What a phenomenal place, manufactured to be comfortable, satisfying, and exciting. I enjoyed it on several levels: reminiscing about visiting it for the first time in 1956 with the family - I could spot the locations where we had taken pictures of the three boys; appreciating the attention to detail, storytelling, and craftsmanship of the Disney imagineers; and just having fun.
In LA, I took a walk in Walt's footsteps: houses and early studios. An incredible experience. Walt Disney is one of my role models, a mentor - his imagination, vision, talent, and persuasiveness to get things accomplished. I had been a fan since watching the Disneyland TV show, visiting Disneyland in 1956, watching the Mickey Mouse Club, and enjoying his many movies. So, here I was in LA at the site of his first home (he moved in with an uncle after he moved west from Kansas City) and three blocks down the street was the first storefront studio that he and his brother Roy opened - Disney Bros. Studio. I walked those three blocks twice seeing houses that Walt saw, wondering what his imagination was thinking while he made that walk every day.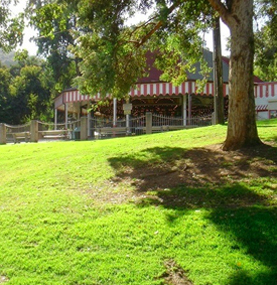 In Griffith Park, I saw the carousel where Walt sat and watched his daughters ride in the early 1950s. It was amazing to be in the same spot, almost unchanged, where he was inspired to create Disneyland. I drove the route he probably took from his home to the park.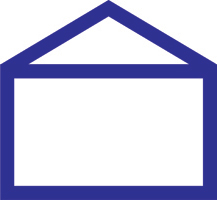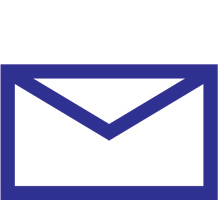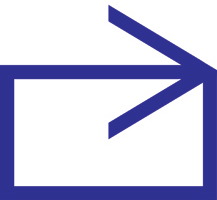 www.jamesrobertwatson.com/disney.html