Car bands and baghook
By James Robert Watson, PhD

Intro
After many years of having things roll around in the car and having to search under the seat for the rolled items, I sought a solution. I needed a method to secure bags, papers, and books. I already had a flat bed in the back of the car (I had removed the back seat and built the bed to transport two dogs and building materials). The area right by the rear door was easy to access and convenient to the drivers door. I laid items there on the bed, but they would slide around on the carpeted surface.


The car bands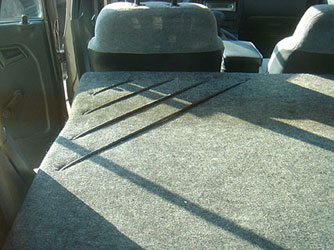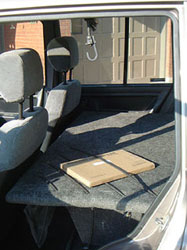 The problem of having items slide around was solved by installing bungee cords. I put these at an angle - to provide convenient access and to allow the holes in the bed to be along the perimeter rather than out in the middle. I used a 45 degree angle since that matches the angled walls in the house and the car was loaded or unloaded while in the house (in the garage - that is in the house). I drilled holes, threaded the bungee cords through and knotted them underneath. Since they're at an angle, they are of varying lengths and tension.


The baghook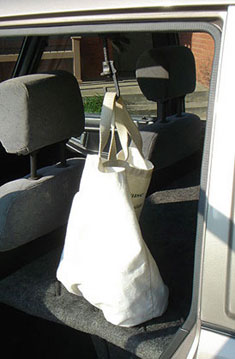 The bungee cords worked great for flat things - papers, books, most packages; but not so great for shopping bags and grocery bags (most often I use a canvas bag that I keep in the car). So, I installed a plastic hook right above the bungee cords. The hook has a an opening large enough to make it easy to hang bag handles in it and it is attached with a short length of bungee cord to provide some give. I attached the hook to the handle that would normally be above the rear passenger seat. The hook hangs down low enough to be easily accessible and low enough that the bags rest on the flat bed but are held upright by the hook. Because the hook and the bags hang right behind the driver's seat, they do not interfere with the view in the rear view mirror. Now, its very easy to hang grocery and shopping bags on the hook right inside the door. Problem solved - bags stay upright, in place, and in a convenient location.


Dates

Design and construction: 2001



Home • Email Jim Watson • Filename to share: http://www.jamesrobertwatson.com/carbands.html