Buying, renting, and selling the apartment in NYC
My first visit to the Big Apple was in 1961 on a family vacation. We stayed at The New Yorker hotel near Madison Square Garden. I was only 10 or 11 years old and was likely a bit overwhelmed by the big city. Fortunately my dad took care of all the details and we just enjoyed. We rode in lots of cabs, saw a Yankees game, Empire State, Statue, and the taping of 2 game shows - one was The Price is Right. Later visits included vacations with a friend and then 4 trips to market a round backgammon board. I conducted business in a day or two and then spent several days exploring the city - museums, shows, sights, and naborhoods. Starting in 1981, I conducted 11 study tours.
During each of these trips to the Big Apple, I would comment on how much I would like to live there. So, my parents, Jim & Lorraine Watson, who passed away in 2002 and 2003, gave me a wonderful gift of inheritance, which I used to buy an apartment in New York City. My objectives and rationale for buying an apt:
• Experience the city as a resident, not a tourist.
• A getaway where I could write and work on projects in the comfort of my own home.
• An investment in New York City real estate.

Thanksgiving, 2003, I flew up and stayed in the Gershwin Hotel (former study tour home) and met a broker that had been recommended by a UCO colleague. She asked what i was looking for and what some of my criteria were. Near a subway stop, near Union Square, and could be a studio or a 1-bedroom.
All the units she showed me had views of other buildings. I told her, "I grew up in Texas and live in Oklahoma, I need a vista." She replied that we needed to go downtown to Battery Park City. We had run out of weekend, so we scheduled those visits for January, 2004. Battery Park City is along the Hudson River by the World Trade Center. We looked at apartments for two days. One at the end of a cul-de-sac had promise - a balcony looking over some trees to the Hudson River. The third day I went and walked the neighborhood to see if it 'felt right'. It did. I made an offer.
The naborhood.
Inside the apartment.

Moving in, March 14-21 2004
• Sunday: Trained from Newark airport to WTC, walked to Hilton Millennium, high room with view of WTC hole, bought shaver, walked by the apt.
• Monday: Bought toiletries, checked out of hotel; 1:00 walk-thru inspection of apt with broker. Closing at lawyer's office on John Street; Hilton: got luggage, walked to new apt; J&R: bought TV; Century 21: bought bedding and bathwares.
• Tuesday: Lite snow, Staples: bought office stuff. I had ordered about $20,000 of furniture from Design Within Reach. Enough that I could specify the date and time of delivery - furniture arrived at 3p, loaded crates into apt; Apple Store: bought speakers.
• Wensday: Union Square: ABC: bought Nelson bed, table, clock; hardware on 8th store; Crate & Barrel: dishes, flatware; SoHo hardware store; set up furniture.
• Thursday: Unpacked dishes; Bed Bath Beyond: housewares delivery; Conran: Vignelli set; prepped tables, delivery arrived, unpack, set up chairs, rug; Container Store: nite stand; Times Square: NYC mugs.
• Friday: Bed arrived. Continued to settle in.
• Saturday: Shot apt photos.
• Sunday: Packed; walked WTC, trained to EWR, flite to OKC.

Sleeping in an apartment in New York City was surreal. "What am I doing here? What have I done?"
it was a fun week - outfitting an apartment in a new town. Enjoying the process and the city. The sheet below detailed pertinent info and a long to do list and things to buy. I did not want to pack things back and forth, so I bought duplicates of many things. The goal was to later be able to grab my laptop and pills, and go to the airport.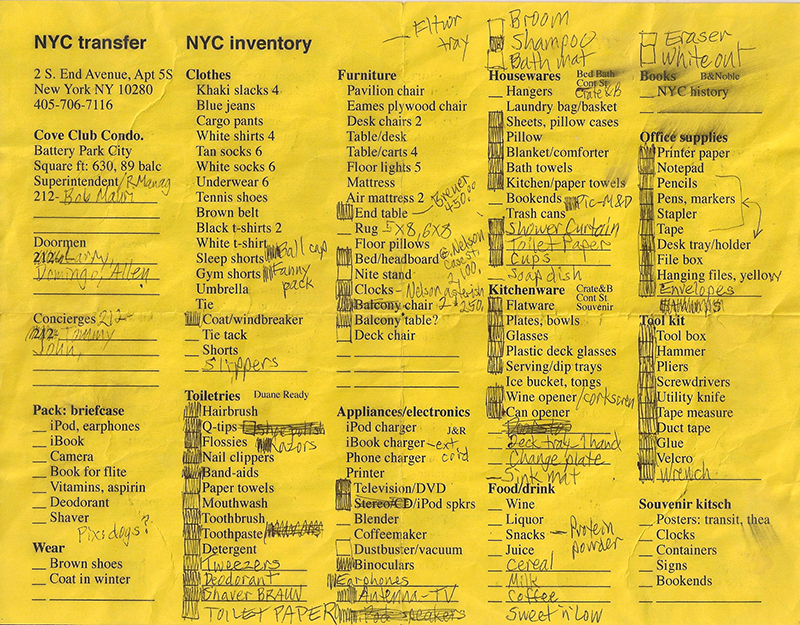 Renting the apartment
What fun - I am going to buy an apartment in New York City. The Big Apple. I had several criteria: convenient location near subway stops and restaurants, and in a great naberhood. The broker and I first looked around Union Square, but since I grew up in Texas, I needed more open space. She took me down to Battery Park City and showed me an apartment with a balcony and a view of the Hudson River and the open space across to New Jersey and the western sky. This would do quite nicely. Another of the criteria was a space that I could share with friends, a Manhattan place they could stay in while I wasn't there. Knowing that others would be in the space impacted my decisions on the location and the building; the furniture and artwork. Over 150 people stayed in the apartment from spring 2004 to fall 2015.

In 2015, I stopped renting the apartment for these reasons:
• I was satisfied that, during 12 years, I helped over 140 people experience New York City at low cost.
• People abused the apartment too much - wall scuffs, rearranging furniture, stains on carpet; missing items: umbrella, shopping bag, laundry card, and more.
• Didn't want to feel pressured to clean the apartment on my last day in New York. On the last day, I want to go enjoy the city, come back to get my laptop, and go to the airport.

Guest info and map
I emailed these two sheets - information and a map - to each prospective guest.


The info sheet provided details on the usage procedure, how to get to the apartment, and other pertinent info to help someone feel comfortable staying in the apt. The map showed routes to get to 4 subway lines, restraunts and services that are close to the building, and locations of landmarks and sights to see. Both pages were in pdf form so the renter could print them out and take them to NY on their trip.
In the apartment was a printout of the tour of the space, detailing the philosophy and rationale for the interior design and info about the furniture:



Guest notification form
When a unit owner had guests stay in their apartment, the owner (me) was required to fill out this form and hand-deliver or fax it to the concierge or building manager.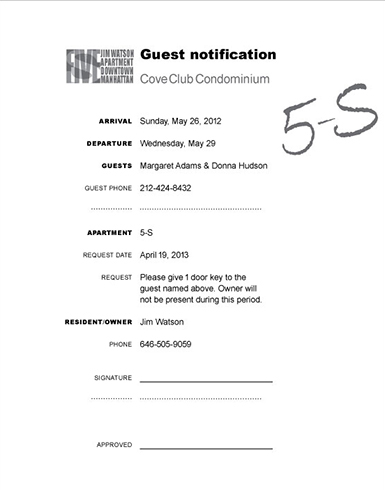 On the left is the form that was provided by the management. It was most likely, as so often happens, simply typed by an administrative assistant.
On the right, is the form that I used instead. I discussed the form with the primary users - the concierges who checks people in and out - to learn what they preferred and how they actually processed the form. The form info was entered into a computer and then filed in a large binder notebook for reference at the front desk. I discovered the elements that were most necessary and the order in which they were read off of the form. The information was prioritized and designed from the user's point of view. Later, at the front desk, I glanced at their notebook of forms and noticed that they hand wrote the apt number in the upper right, so I added it to the form to save them the trouble. By 2013, no forms were used as all requests could be done online or through the BuildingLink app.

Renter statistics
Dates: March 2004 - April 2016 - 12 years
Guests: 85 groups; 158 people


2004 8 16 Brent; David & guest; Tina, Zev & Isaac; Eric; Doug & Dottie; Terry, Susan & Alexx; Nancy & Chuck; Bill & Ruth


2005 7 15 Sarah & Chip; Allison & Astrid; Clint, Gus & 2 guests; Larry & Jo; Brian & Mom; Cole; Bill & Ruth


2006 7 12 Steve; Greg, wife & children; Gail; Gus; Jon & Tanda; Tim & Shannon; Carolin


2007 9 17 Gail & Pam; Larry & family; Tim & Shannon; Bill & Ruth; Richard & guest; Michael; Tim; Mitch Baker; Alfonso & guest


2008 14 24 Anita & Susan; Paul; Bill & daughter; Steve; Chris & Susan; Susan & husband; Alfonso; Michael & Mary; Sean; Amy & sisters; Joy & Mike; Carl; Paul & Mary; Gayle & Lori


2009 5 10 Frank; Roberta & Steve; Frank; Mitch & Meghann; Frank; Dave & Steve; Frank; Gayle, Lori & guest


2010 10 13 Frank; Gayle & Ann; Frank; Martrese & Dave; Frank; Keegan & Jessica; John & guest; Cole & guest; Keegan & Jessica; Amy & guest


2011 4 7 Martrese & Brandon; Beau; Pat & guest; Sean & Michelle


2012 4 8 Dylan, Amanda & Jessica; Dave; Sean & Michelle; Alyson & Meleia


2013 9 19 Sean & Katherine; John & 2 guests; Cole & Patricia; Kamla, Revanoor & son; Bruce & Laura; Alfonso & Kim; Julie; Martrese & Dave; Gayle & Lori


2014 4 6 Alfonso; Amy & 2 friends; Michael; Gayle


2015 6 10 Allison & Randy; Ruki & Junaid; Gayle & daughter; Pat; Beau; Martrese & Dave


2016 1 1 Ruki



Selling the apartment
Wensday, June 19, 2013: Taking a road trip through Texas was fun. I want to take more of those trips. I love living in New York City, but while sitting on Governors Island, I realized that I had been there, done that. Some of the allure of New York City had diminished. Maybe it is time to sell. But, several people who understand NYC real estate better than I adamantly encouraged me to not sell - to hold on to the investment. As the new office towers, shops, and restaurants open, there will be an increased demand for housing and prices will rise. I will make back what I have paid in monthly fees. I listened and heeded their advice.

Three years later, in the spring of 2016, I reconsidered and decided for certain that the time was right to sell - for a variety of reasons:
• I achieved my goal - living in and experiencing NYC as a resident, a New Yorker, not a tourist. After 12 years, I am very satisfied with living in the big city: shopping, day trips, shows, parks, walks, naberhoods, fixing up the apt.
• The excitement of living in New York had diminished a bit.
• The dogs (one getting old and one has a bit of separation anxiety) don't really like NYC as much as I do - they might vote not to sit in a car for 6 days, motel rooms, and the apt (or they might vote to be with me rather than in a kennel). The dogs are just as thrilled to walk in OK and go to the dogpark. Hudson River means nothing to them. Having my dogs with me in NYC was all for me.
• Brooklyn (the dog) isn't very condo appropriate. I'm not comfortable leaving her alone for very long.
• Tired of the hassle and money to travel with dogs, walking the dogs two or three times a day, being limited in activities, and cleaning up poop.
• Charles, Frank, Beau, and Taylor had all left Manhattan, I made fewer fun day trips from the city.
• Not going to as many expensive Broadway shows.
• Want to merge stuff and have new furniture, clothes, dishes, and stuff at home; renovate office with wheeled tables.
• Want to travel to other destinations.
• Want to redistribute savings. Buy stuff. Rainy day fund.
• Look forward to staying in fun hotels in different NYC naberhoods. With TV, WiFi, and coffee shops.
It is the end of owning a NYC apt, but not the end of the NYC experience.

What I'll miss
• Having my own bed, bathroom, and kitchen.
• Making my own breakfast, meals at home.
• Walking the dogs in the big city.
• Enjoying the view from the balcony.
• Walking home after sitting along the Hudson, sightseeing, or shopping.
• Driving cross-country with dogs, Effingham, Washington, Columbus, Springfield.
• Visiting NYC was easier - I could arrive at any time, no reservations.
• Feeling like an NYC resident and homeowner.

Memories
• Walking the dogs downtown and sitting along the Hudson, Battery Park, North Cove.
• Sitting and eating on the balcony.
• Feeling like a New Yorker: shopping, shows, parks, walks, naberhoods; helping guide tourists.
• Unique naborhoods: Madison Square, Union Square, Central Park, LES.
• Grading tests on the plane and in airports.


• Remodeling construction at the airport in OKC.
• Taking trains from Newark airport to WTC.
• Day trips: Teddy Roosevelt's Oyster Bay, Levittown, Woodstock site, Princeton, Edison sites, Craftsman farms, Norman Rockwell's Sturbridge Village and Studio, FDR's Hyde Park, train to Hudson.
• Drive memories: Manny vomit, McDonald stops, Missouri rest area ticks, Effingham IL: Motel 6 & Super 8, downtown tour, Walmart, walks; Washington PA: Motel 6, campus, US 40, walks, Panera, walk houses; old US 40, Penn Turnpike rest areas, NJ turnpike, city views, Holland Tunnel, driving in Manhattan, Verrazano Bridge.
• Drive stops Eastbound: Effingham & Washington; Richmond
• Drive stops Westbound: Columbus & Springfield MO; Columbus & St Robert; Indianapolis & Springfield; Columbus & Cuba; Cloverdale.

A checklist used to prep trips back and forth:


Packing up


A friend helped me clean the apt. I rearranged and shot some photos before I left: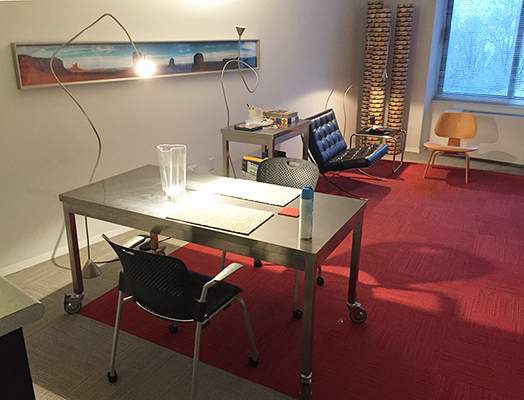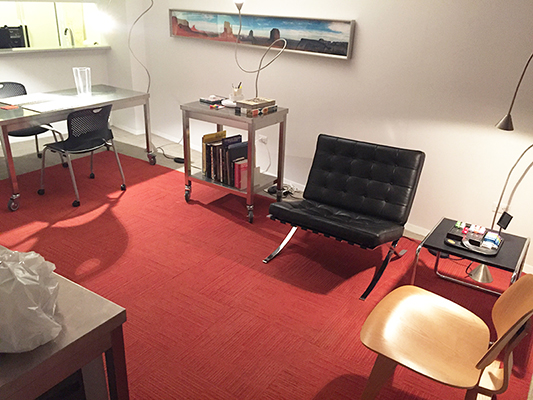 The listing on the broker's website: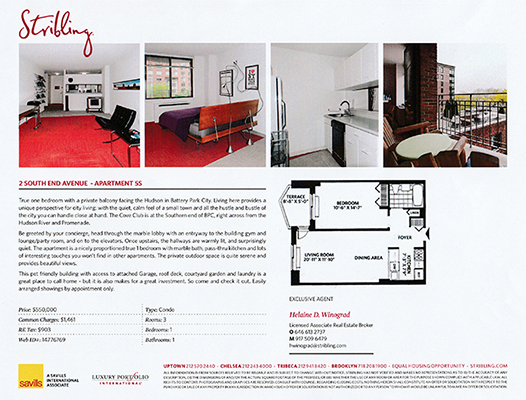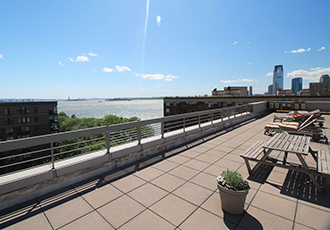 The broker rearranged the furniture for the photographer: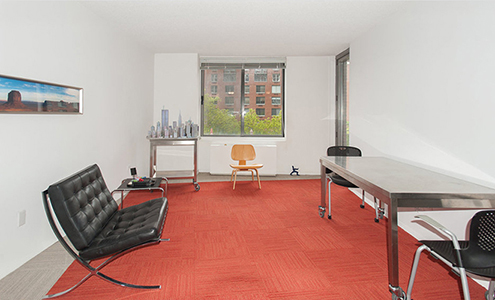 I called her and told her how unappealing the apt looked. I sent her the floor plan of how it could look better: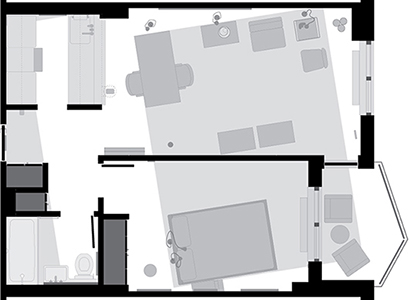 She graciously rearranged and reshot the photos: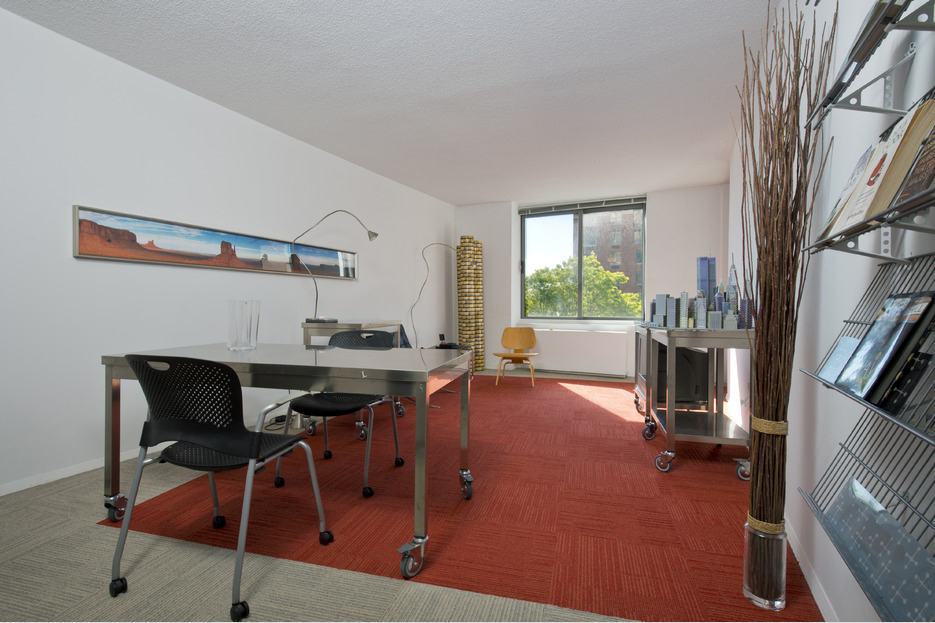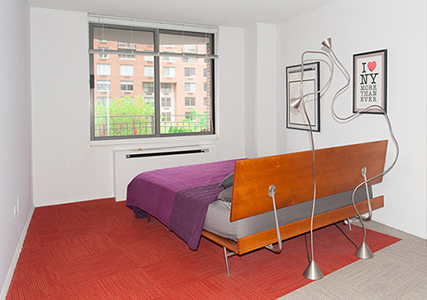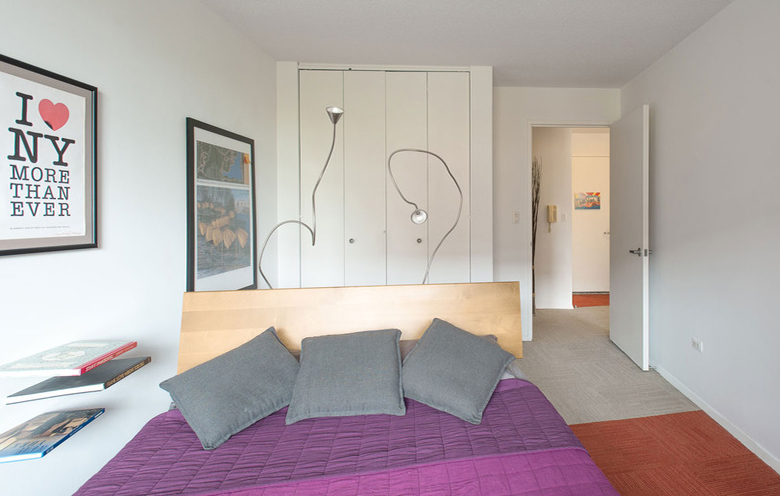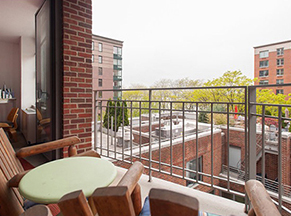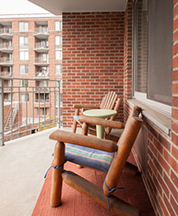 Later, I moved all the furniture to OK. Seeing the apartment completely empty took me by surprise. It was happening - I was all out. Sorta sad.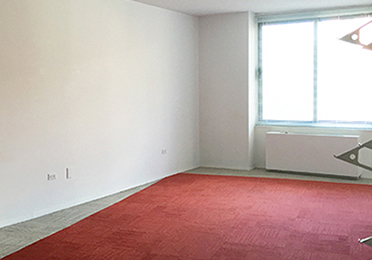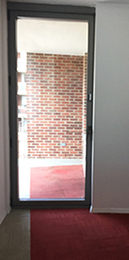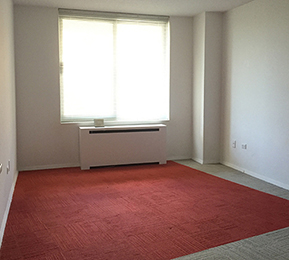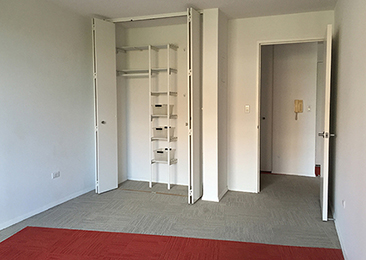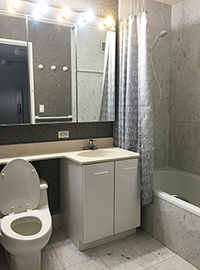 The Broker removed the carpet tiles and had the apt rephotographed: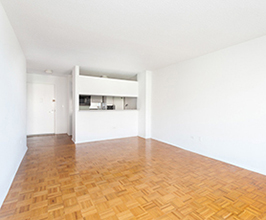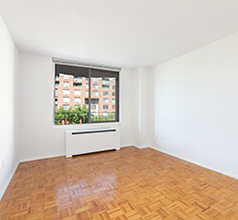 Prepping the move
I cut apart the MetroCard columns and threw them away. Dismantled the 3D model of the city for packing in a box. Saw how much stuff I had to take to Goodwill and realized it would be quite a hassle. I posted a notice on the building internal site for a 2-hour, free stuff, Groj sale:


I propped open the door and arranged the stuff for better viewing. 4 people came by and took quite a lot of stuff. It made the trek to Goodwill much easier. After the 'sale', I brought up the building luggage cart and loaded the TV, an Ikea bag of crap, and much of the rest. I pushed the cart and the two chairs (on casters) with a table on the seat down to the street. Seth walked up and helped me roll to the curb where I called for an Uber SUV. That took about 10 minutes. We loaded up and drove on to Goodwill on 14th Street, about 2 blocks from Union Square. Seth lugged the TV into Goodwill - we were told they no longer accept those tube TVs, only flat screens. He said we had to put it on the curb by the apt and call the City to come pick it up. We walked out, and I told Seth, "Forget that, just set it on the curb up here by the corner." 14th St and 8th Avenue. After getting coffee, we wandered back by and saw that the TV was gone.

Moving Day
I woke up at 2a and, despite more sleeping pills, never got back to sleep. At 5 I got up and went to work with some final details (like taking the bed apart) - movers arrived at 8:45. I don't do too well emotionally when sleep-deprived.
I went downstairs to turn in the deposit for moving damages and then took a walk to the river. Back at the building, I saw the moving van and 4 guys. We went in and went over the procedure. They were good - they packed, wrapped, and dollied everything out in 1.5 hours. It went so fast, I didn't have time to vacuum the floor before they wrapped up the vacuum. All of a sudden, I was alone in a completely empty apartment. I looked around and lay down on the floor. Within seconds, I was a blubbering buffoon. It was all over. I prepped for it, I knew it was coming, but, pow, it just hit! Seeing the apt completely empty made it so real and so clear.

I worried that the super would come in (to check for damages) and see me laying on the floor sobbing. I got up and dried my eyes. I left the empty apartment and went downstairs with my luggage and said goodbye to the Bldg Mgr and the head Concierge. I'm sure they saw my red eyes (oh well). I then crossed the street to the river and sat on the same bench on which, over 12 years ago, I made the decision to do this great adventure - one of the best decisions I've ever made - to experience the city as a resident.

I watched people and boats for a while, then, while on my way to the dog park, I stopped to help a young couple navigate to the Wall Street Bull (and I gave them a brief history lesson of the surrounding area). As an unofficial City Ambassador, I enjoy the expression that seems to say, 'New Yorkers aren't rude after all!' Hell no, we're not rude, you stupid slut.
That helped turn me around - I felt grounded in my town again. I also realized that it was somewhat absurd to be so childish about such a joyous and enriching experience and opportunity. Again, oh well. With a new outlook, I sat and watched dogs a while and went on to the Holiday Inn (tallest one in the world at 50 stories) where I spent the night. With a bit of time distance, I was rational again. It was:
• A great run.
• A hit show.
• A blockbuster exhibit.
• A once in a lifetime experience.
I am eager to return to the city.

Number of trips
51 Plane flites to the apt (pre-apt: 18)
12 Drives: Vegas: 4, Vegas & Manhattan: 3, Manhattan: 3, Manhattan & Brooklyn: 2
63 Total trips to NYC apt: March 2004 - June 2016

Apartment 5-S dates


Buying the apt 2004
Condo purchase: January 15
Closing: March 15
Move-in and furniture setup: March 15-19
• HGTV filming: May 18, 2006


Renting the apt
Dates: March 2004 - April 2016 - 12 years
Guests: 85 groups; 158 people


Selling the apt 2016
Decision to sell: March
To Do List & where furniture will go: March
Confirmation emails to bldg and broker: Wensday, March 23
Drive to NYC with dogs: April 16-25: Remove wall art installations, sign contract with Broker
Apt walls patched and painted: week of April 25
Apt listed and ready to show: May 4; Reshot listing photos: May 15
1st Offer made 510: May 20
Counteroffer 544: June; Buyer accepts counteroffer
Signed contract: June 8
Closing scheduled: July 15
Offer withdrawn: July
Fly to NYC, June 19-21: Purged & prepped; Groj Sale, Goodwill; removed kitchen & bath carpet
Moving company packed and emptied apt: Wensday June 22
Walked to Holiday Inn for the night: June 22-23
Apt walls patched and painted: June 24-25
Moving company delivered furniture to OK: Wensday July 3
2nd Offer made: Tuesday July 19
Counteroffer, 'as is', made by me: Friday July 22
Buyer accepts counteroffer: Saturday July 23
Offer withdrawn: July
Address floor repair, Broker removed carpet tiles: August 27
3rd Offer made 520: Thursday September 15; Counteroffer, 'as is', 540; Buyer accepts counteroffer
Signed contract: September 26
Closing #1: November 1; Closing #2: November 18; Closing #3: December 8
Sent papers, keys to Attorney: Tuesday, December 6
Received payment: Monday, December 12
Purged emails/contacts, revised website: December 13


Costs
342,000 Purchase price 2004
5,000 Improvements (carpet, walls)
540,000 Sale price 2016
57,000 Closing costs
136,000 Capital gains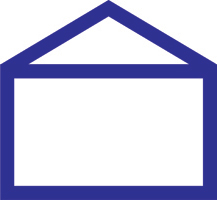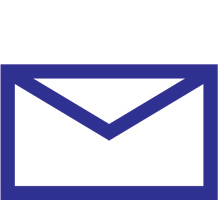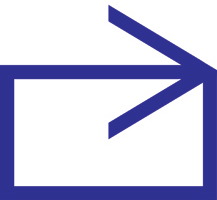 www.jamesrobertwatson.com/5sselling.html