The exterior and yards

Link to fotos on

The lot plot


At the left is the office connected to the house by the wide sidewalk. The rear deck and hot tub are next, then the house, and the new driveway and angled parking pad. The landscaping curb zigzags through the yard to connect the office to the main house and continues through the house to the front sidewalk. The angled pergola and parking slab respect the angles inside the house and office.



The front of the house




When I moved in, the front porch was hemmed in by wrought iron railing and the trim and groj door were painted white. The railing was removed within hours of moving in and the white groj door against the dark brick made it the focal point of the house curb appeal.
The front of the house was renovated in 1995 in a style reminiscent of National Park Arts & Crafts. The brick planter uses roman style bricks, noted for their long thin shape and used extensively by Frank Lloyd Wright to convey a low horizontal prairie style. The unique angle at the end of the planter was disguised by a bush, cut down soon after moving in. To enhance the horizontalness of the planter, shutters and the porch railings were removed and broad-bowl planters were placed at the extreme corners to draw one's eye to the side extremes.



The front porch




The Mission Craftsman style influence is in the column and porch bench detailing, the colors of brown and green, the accent color of copper, and the simplicity of the 4x4 posts. The front door is detailed in an Arts & Crafts style with faux copper windows to establish a focal point from the street and invite guests inside with its warm color. The mail slot is hidden in the groj door to minimize embellishments on the front of the house - the panel to the left of the numbers swings in. The bell hanging by the address sign is from Arcosanti, Paolo Soleri's experimental architectural community north of Phoenix.
Address signs: On each side of the garage is a metal sculptural address sign. The lettering was designed in an Arts & Crafts style.
Lighting: classic Arts & Crafts detailing.



The driveway




In 2004, the 1952 driveway was removed and replaced with a larger one that provides space for parking in front of the house. The parking pad is angled to relate to the angled great room inside and provides a subtle intro to the angles the visitor is about to encounter in the house and office. The pad is stamped and stained concrete to soften the harshness of so much concrete in the yard.

Landscaping 2013





The back deck




The left photo shows the original grid canopy and the hot tub and low tool shed that was added in 1995. The new deck canopy/pergola is at the same angle as the tin walls and detailing picks up the Arts & Crafts style from the front porch. The deck floorboards are loosely spaced TrexDeck that never needs painting or sealing. The hot tub provides a resort oasis with views of the trees and office.
Lighting: the deck light matches the Arts & Crafts style light on the front porch.



Backyard

sculpture




• Mesh column: A vertical stack of undulating mesh grids.
• Pink flamingoes: Well, they're pink flamingoes - what else need be said. Every respectable outdoor collection of fine art must include these time-tested classics of contemporary design.
• The big E: The large E with the yellow neon is from a former Eckerd's sign and can represent Edmond.
• WindSwirl: This piece, made of several long gooseneck arms, represents the swirling winds and tornadoes of the Oklahoma prairie.
• Flag banners: Three vertical poles of nylon fire colors provide slight kinetic movement in the Oklahoma wind.
• St. Francis: In the southwest corner of the yard, in a secluded retreat, stands the statue of St. Francis tending to a bird.
• Japanese garden: rocks, pagoda, simple bench. This forms a serene restful area by the hot tub. The bench is minimal Japanese style with the same detailing on the legs as on the porch columns.
Note: All the above pieces (except the items listed below) were discarded during the Great Purge of 2010.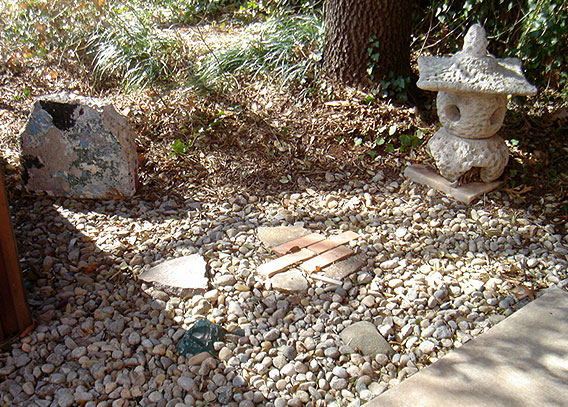 Several unique items lie within the stones of the Japanese garden:
• The rock with the flat top is a piece of granite from the facade of the Murrah Building in Oklahoma City, shattered by the bomb of 1995.
• The blue-green glass is a piece of slag extensively used by the architect Bruce Goff and was a part of Shin en Kan, his classic house for Joe Price in Bartlesville.
• The collection of concrete and bricks is from Watson's childhood home in Dallas that was razed in 2003. There is a piece from the front sidewalk, bricks from the house, part of the driveway, and a piece of the deck that surrounded the backyard pool.
• The chunk of concrete with paint on it is from the old Graffiti Bridge in Oklahoma City. This bridge for the Interurban train that ran from downtown to Guthrie (stopping in downtown Edmond) from 1920s to the 1940s, spanned Western Avenue where Classen now crosses. Youngsters would constantly paint the bridge with Graffiti, slogans, and school colors.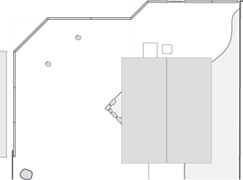 In 2012, the temporary (for 15 years) wire mesh fence was torn out and replaced with a classic chain link fence. The old fence had been staked, meshed, and supported with junk to improve its barrier. Both Vegas and Brooklyn had found weaknesses in that fence. The chain link is reminiscent of the fences from Jim's childhood, that surrounded the schoolyards and playgrounds at Preston Hollow and George B. Dealey. The fence angles in 2 places to better follow the terrain and to respect the angle in the house, office, and parking pad.


The far corner of the backyard is home to 2 pine trees - the sound of the Oklahoma wind whistling through pine needles is a reminder of Watson's trips through Colorado and New Mexico.


The exit of the dog door installed in 2012.


Varying states of renovation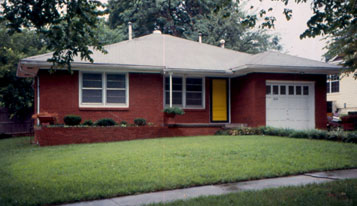 The ice storm of December 2007


Home • Email Jim Watson • Filename to share: http://www.jamesrobertwatson.com/424exterior.html